YOUTHLINK CALGARY HOLIDAY 50/50 CASH RAFFLE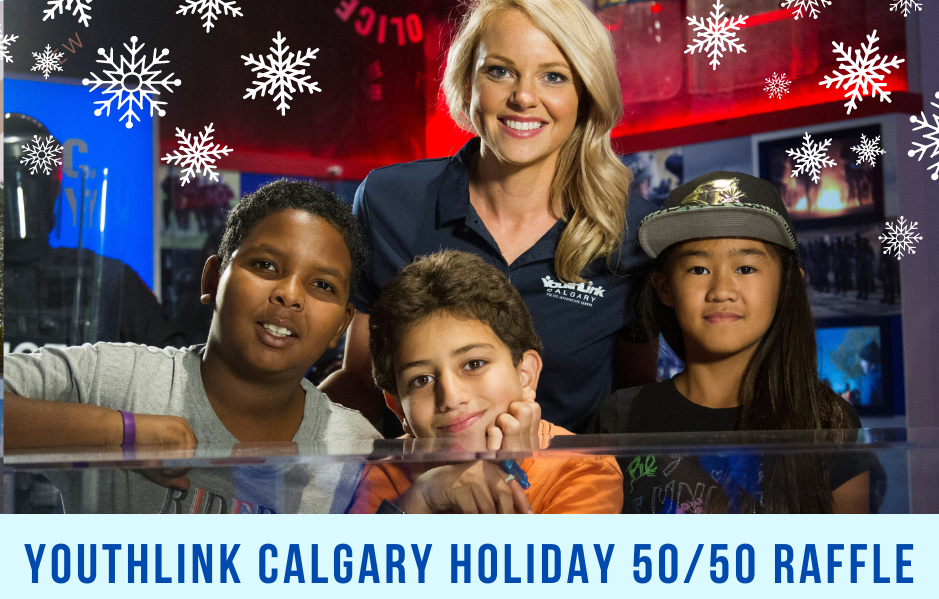 Get Your Tickets for the YouthLink Calgary 50/50 Holiday Cash Raffle!
Could you use a little extra cash right before the holidays? Need some extra shopping money, want to visit family, or need to treat yourself after a long year? We can help!
Get your tickets for the YouthLink Calgary Holiday 50/50 Cash Raffle and have a chance to win up to $10,000! Tickets are on sale from November 22nd until December 16, 2021.
Proceeds from the raffle benefit YouthLink Calgary Police Interpretive Centre – a cutting edge police museum where crime prevention is at the heart of everything they do. Through immersive educational experiences, children and youth learn life changing lessons about drugs, bullying, gangs, healthy relationships and cyber safety.
The grand prize draw will be made live at 9:00 a.m. on December 17 from the YouthLink Calgary Police Interpretive Centre and the winner will be announced on their Facebook page.
The winner will receive a minimum cash prize of $4000 or 50% of ticket sales (whichever is greater) up to a maximum of $10,000.
50/50 Ticket Packages:
100 for $100
20 for $50
4 for $20
1 for $10
Important dates:
Start Date: November 22, 2021 at Midnight
End Date: December 16 at 11:59 p.m.
Draw Date: December 17 at 9:00 a.m. at YouthLink Calgary Police Interpretive Centre