Story by Corinne Wilkinson, Calgary Police Youth Foundation
I arrive at Patrick Airlie Elementary, one of two Calgary Integrated School Support Program (ISSP) schools that receives funding from the Calgary Police Foundation (CPF).  ISSP offers a complete wrap-around model of teachers, Police Officers, Social Workers, psychologists, gym teachers, health care professionals, and daily nutritious meals to vulnerable youth.
I have been invited to meet eight-year old Noah. Janice, his MASST Social Worker with the City of Calgary invites me to join in their game of Monopoly.  We conduct an interview at the same time which Noah is totally cool with.  Turns out Noah loves Monopoly, Lego, crafts, school, chocolate, and that his family is, in his one-word answer, "kind."
Earlier this school year, Noah was presented with a CPF challenge coin for overcoming some of his most difficult challenges at school.  But it was not always this way, and even today Mom says "we never know which Noah we'll get when he wakes up."
After meeting Noah, I travel to meet Mom and Dad, and Noah's two younger sisters at their home. Noah has two older siblings as well, a brother and a sister, so Noah is smack dab in the middle of five children.
The family's experience with an ISSP school started with Ethan, Noah's older brother.  But Ethan only had the benefit of the program for one year before he aged-out when he finished grade six. Research shows prevention and early intervention programs have the most positive impact with kids before they get to junior high school.
Mom and Dad share that Noah, unlike Ethan, has the benefit of attending an ISSP school starting in grade one, and is also registered in the Multi Agency School Support Team (MASST) program.  MASST sees students meet weekly with a Police Officer and a Social Worker – learning that they are safe adults.  ISSP and MASST, and the tremendous support Noah is now receiving, is what Mom and Dad would have wished for Ethan.
Noah is ADHD.  Ethan is ADHD.  Dad is ADHD.
"Ethan was taking stuff that did not belong to him when he was only three years old," says Mom. "There were things he was doing that made me think he was on the high functioning spectrum of autism.  But there was no additional help."
Ethan started to show great improvement in his only year at the ISSP school, but all too soon it came to a mandatory end.
"We are living through some challenges with Ethan now because he did not get the same opportunity that Noah is getting, and we will be damned if Noah takes the same path Ethan has."  Today the family is sourcing many out-of-home resources to help 14-year old Ethan deal with the circumstances he is facing.
"Ethan was a handful, getting in trouble with the law, and our time was consumed with helping him.  But we realized our other three young children were paying the price of being neglected, especially Noah."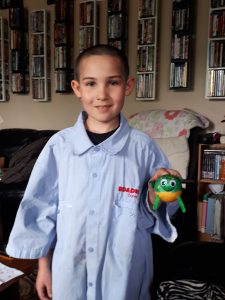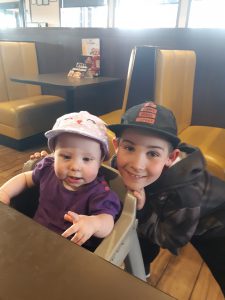 Six-year old Noah was having outbursts at school, running away, and throwing screaming fits. The Principal would pick him up and carry him to her office as he yelled down the hall and grabbed at the walls.
Noah's behaviour had permeated outside of class to the point where kids treated him differently.  For the past two years, eight kids have been invited to each of his two birthday parties.  In the two years, only two attended – one arriving late.  Mom and Dad tried to explain that families are sometimes busy, but Noah's answer said it all " "it's OK, I knew no one would come."
Noah says now, at age eight and a year in the program, his best achievement is "being calm.  I don't run down the hallways anymore."
Mom shares more.  Noah's favourite activity is playing with his younger sisters, and of course his arts and crafts.  He is playing baseball this summer and attends the ISSP after-school program of supervised fun and games for kids until 6 PM. 
Noah learns many of his crafts from the TV series MacGyver, which the family rarely misses an episode.  "He loves watching what MacGyver can make and fix.  Give Noah paper, staples, crayons, foam, anything crafty and he will make something really cool out of it."
We turn our conversation to the family's history, and Mom and Dad share openly.  But – not before asking Noah's young sister to play in her bedroom for a few minutes. 
"That is one of the things we learned – little ears are excellent at picking up on our adult conversations." 
Two years ago Mom and Dad separated.  There was too much arguing, disagreement over the kids, and not treating each other very well.  Dad returned to Ontario, while Mom stayed in Calgary with the kids. 
"Noah was at the height of his issues at school and I think our separation really spiked his behaviour.  That is when Janice and Officer Tony, the MASST team at the time, were introduced into our lives."
Mom switched jobs to become a school bus driver so she could be home during the day with her young children.
"But even still, Noah was acting up at school and was quite verbally abusive with me. He let me know he was not taking it well."
Mom met someone new in her life and that too had a further impact on Noah.
"At first Noah did not mind him, but then my friend realized he might have bitten off more than he could chew with my kids.  Ethan with his ADHD and in trouble with the law, Noah acting up in school and being verbally abusive at home.  It just did not work– I could not have someone in my life who did not like my children.  Or who my children did not like in return."
After some time, Dad moved back to Calgary, and they realized they still loved each other, that there was something worth saving in the relationship, and that they just needed to work harder at it.
Today Noah spends a lot of time with Police Officers – in a good way.  Learning they are his safe adults. He trusts them.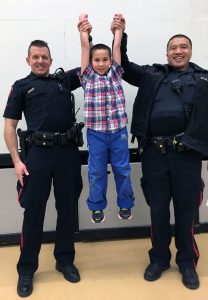 "When we were growing up, if the Police showed up at school or at someone's house it was only because someone had done something seriously wrong," shares Dad.  "Noah is learning the exact opposite, and that is one of the big experiences we wish Ethan had had."
"Ethan was the class clown, but Noah we are told is a role model in school," says Mom.  "Teachers also tell us that Noah now does a much better job of owning his behaviour."
But he is not quite out of the woods yet.  Young Noah is still learning to deal with his emotions – anger, sadness, frustration, and short-lived fits.
"But the big difference is now we tell him it is OK to be mad, he just needs to channel it into something positive.  MASST is helping him with that."
"If we could talk to families struggling like we were, and some days still are, we would say hang in.  With all the help we have received from the CPYF funded programs, we are starting to see a light at the end of the tunnel. Nothing that is happening to our sons is where you want your kids to be.  Serious challenges facing a young teenager are not what we want Ethan to be.  An angry and verbally abusive eight year old is not what we want Noah to be."
Dad admits things have really changed since he was a young boy with ADHD.  "I was put in a special education class with teachers who were trained to handle us – we were all together in the same room. Today, ADHD is not considered a special education category."
"Ethan has made some bad choices and he knows it, but it is hard to blame him entirely. Ethan himself was victimized.  Twice MASST presented him with a new bike and twice it was stolen – lock and all – out of our own back yard. How do you explain to a young boy the need to make better choices in his life when others are not treating him fairly?"
The family perseveres.  But what they really want is to express their heartfelt thanks to CPF donors for giving them more opportunity to help Noah lead a happy, fulfilling life.
"Thank you for all the cool things we can do as a family, Ethan included, which is really helping our relationship.  Experiences that we could never afford like the Calgary Zoo, the Good Food Box, family movie passes, and the professional MASST support services at Noah's ISSP school. We know it is absolutely making a difference for Noah, and we also believe the future will see a different and happier Ethan."
"I think the best way a donor could see the incredible impact they are having is to come to the Patrick Airlie School BBQ.  The Officers are cooking burgers, playing games, and getting the kids into fire trucks and police cars.  You will see instantly the difference that having Police Officers in our children's young lives is making. As parents, we know the Officers give it all they have with our community's kids, and we cannot say thank you enough."
Back to Noah.
"Every day can be a surprise with Noah.  But what is not a surprise – we are getting a much more engaged Noah and a much happier Noah than we had a year ago. This is thanks to his teachers, his Principal, Janice, and Officer Ron – all of whom we are so grateful to have in our lives."
"He is a busy boy.  He is a happier boy.  And for that we say thank you to everyone and every donor that makes ISSP and MASST possible.  It is life changing for Noah, and for us as a family.